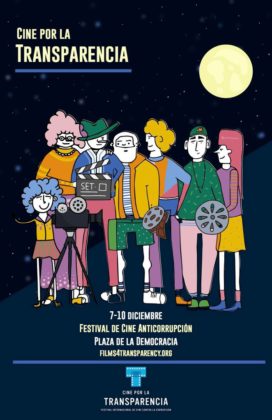 From December 7th to 10th Costa Ricans will be able to enjoy a particular outdoor film festival, whose theme is corruption.
The event includes the screening of eight feature films and 18 short films, as well as an international concert by the African artist Nasseman. Most activities will be in the Plaza de la Democracia, in downtown San José.
This is the second edition of the Anticorruption Film Festival. Last year the event was held in Panama and in 2018 the headquarters will be Denmark. The International Day against Corruption, scheduled every December 9th, is commemorated during the event.
Movies, cinema in general, is one of the cheapest formats for distribution. In addition, through the stories we can think that corruption comes from the highest spheres, but it starts from us. The importance of this is make people question authorities and our day to day,"
said Marysela Zamora, director of Factory of Stories, which produces the event.
In addition, this year a special section called "Without Borders" will be screened to expose the reality of refugees in different countries, thanks to an alliance with the United Nations High Commissioner for Refugees (UNHCR).
Zamora explained that the selected films expose human stories with crimes linked to corruption and their consequences.
In addition to the Plaza de la Democracia, some screenings will take place at the 1887 Theater and Magaly Cinema.
The organization Transparency International is responsible for bringing this initiative to Costa Rica, a country in which 61% of its citizens believe that corruption has worsened in the public sector in the last two years, according to data from the Office of the Comptroller General of the Republic.