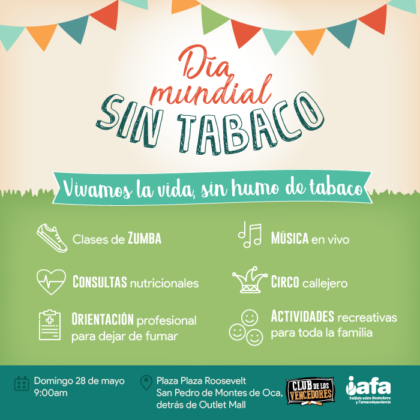 Although the international celebration is May 31st, in 2017 the Institute of Alcoholism and Drug Dependence (IAFA) will carry out a series of activities related to this celebration on Sunday, May 28th.
The open-to-public activity will be at Plaza Roosevelt, located on the south side of the Outlet Mall in San Pedro, from 8:00 am to 1:00 pm , to celebrate one more year without tobacco.
Smoking accounts for a direct annual cost of 129 billion colones, equivalent to 0.47% of the country's Gross Domestic Product (GDP) and 4.8% of annual public health expenditure per year. This was revealed by an investigation by the Institute of Clinical and Sanitary Effectiveness (IECS) of Argentina and the Ministry of Health, with the participation of the Costa Rican Social Security Fund (CCSS).
Those attending the call organized by the IAFA may enjoy a series of activities, including:
Health Fair: with the participation of several governmental and non-governmental institutions, working on the topic of health with activities directed to the control and Clinics of Cessation of Tobacco. Attendees will be able to make blood pressure tests, consultations, motivation and making referrals to specialized medical services, especially to smoking cessation clinics.
Entertainment: Children and adults can participate in classes of Zumba, pintas caritas, street circus, inflatables, animation with music and as a closing activity a concert with a DJ for the whole family.
Smoking accounts for 12% of all deaths in Costa Rica. The most frequent diseases attributable to tobacco are:
• Heart diseases
• Stroke (stroke)
• Chronic Obstructive Pulmonary Disease (COPD)
• Pneumonia
• Cancer (mainly lung cancer)