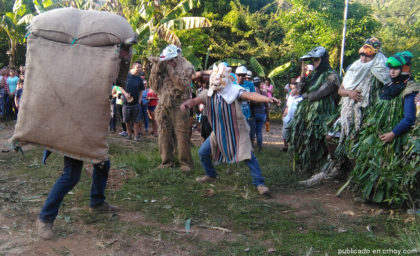 The traditional celebration of the Juego de los Diablitos (Game of the Devils) in Rey Curré indigenous community will raise funds for the reconstruction of the community's high school.
In addition, this year the activity will be declared an Intangible Cultural Heritage of Costa Rica. The event will take place from January 25th to 28th.
The important thing about this declaration is that not only it recognizes this as an isolated tradition, but also the whole context that characterizes it and that links it with other elements of our collective identity such as the old costumes, the gastronomy, legends, crafts, our music and all those other cultural expressions,"
commented Uriel Rojas, a member of this indigenous community.
The Association of Indigenous Development (ADI) of Rey Curré endorsed that the funds raised with the sales of dishes, crafts, desserts and tamales and even the dances with musical groups that will be presented in the community hall, are destined in the reconstruction of classrooms of the Liceo de Rey Curré, facing the school year 2018.
This is because the Administrative Board of the Highschool created a Parent Commission to work and collect funds. The collections will allow the purchase of urgent materials for the reconstruction of classrooms, affected by the tropical storm Nate in 2017.
The indigenous community of Rey Curré is located in the Southern Zone of Costa Rica, in the canton of Buenos Aires, Puntarenas, 220 km south of San José.
Its access is located on the edge of the Interamericana Sur highway, between Palmar Norte and Buenos Aires. There is a bus service that passes through Rey Curré every two hours.