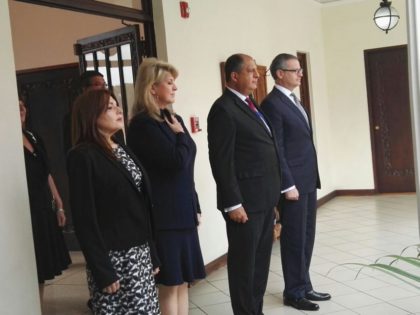 Sharon Day presented her credentials as US Ambassador to Costa Rica on Wednesday morning and officially began her duties in the country.
During an activity at the Foreign Ministry, Day met with President Luis Guillermo Solís and Foreign Minister Manuel González at the official ceremony to be officially accredited as a diplomat in the country.
Day was sworn in on September 25th at the State Department in Washington by Undersecretary of State Thomas Shannon.
The ambassador was chosen in mid-June by President Donald Trump to replace Stafford Fitzgerald Haney, who arrived in the country on a mandate from Barack Obama.
It is an honor to serve as the new US Ambassador to Costa Rica and I look forward to working with allies to maintain our long history of bilateral cooperation,"
said Day.
This woman, born in Texas, has more than 20 years of working for the Republican Party. In addition, she founded businesses in the insurance and marketing industries and is a champion of women's rights.