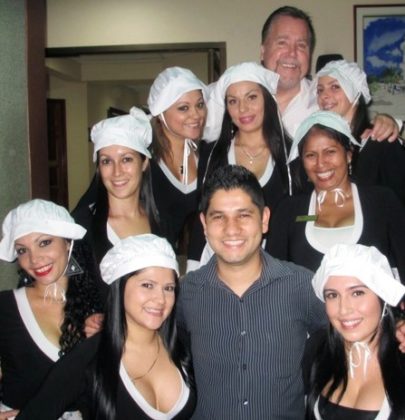 On Thursday afternoon, the staff at the Sportsmens Lodge in San Jose will serve their 13th Annual Turkey and Football dinner. Preparing and serving turkey dinner with all the trimmings to over 200 people in one afternoon is no easy task. However, according to the hotel management the big turnout is what makes it possible to offer the meal on an "all you can eat" basis for just 14,250 colones ($26). As a courtesy to seniors and ladies the price is reduced to just half.
Located at Calle 13, Av. 9 – 11 in the upscale Barrio Amon neighborhood of San Jose, the bar and restaurant at the Sportsmens Lodge has long been a favorite destination among the expat community and visitors to the central valley of Costa Rica. The Sportsmens Lodge is known for its outstanding hospitality and facilities for watching sporting events. Equipped with a satellite entertainment system and dozens of big screen televisions, guests can watch just about any sporting event, either in the bar or their hotel rooms.
On Thursday the games start at 10:30 am. Turkey Dinner with all the trimmings is served at 2 pm, and until 8 pm.
Minnesota at Detroit CBS 10:30 am Ford Field
Washington at Dallas FOX 2:30 pm AT&T Stadium
Pittsburgh at Indianapolis NBC 6:30 pm Lucas Oil Stadium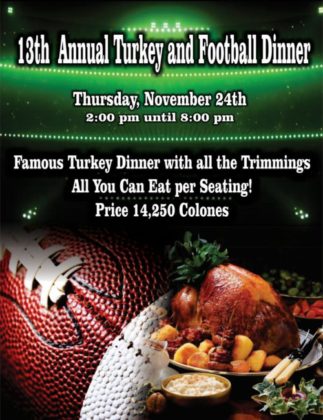 Meal includes fresh baked turkey, real mashed potatoes, delicious turkey gravy, american style homemade stuffing, buttery cooked mixed vegetables, jellied cranberry sauce, pumpkin pie with whipped cream, and a glass of wine.