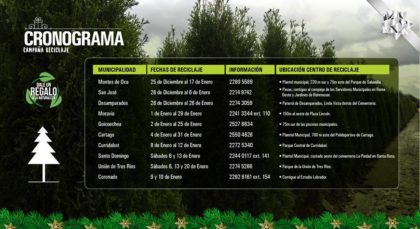 On January 2nd, the public-private Christmas tree harvesting campaign began in Goicoechea, one of the 10 cantons to responsibly dispose of the tree.
Since December 25th and until January 31st, the company Farmagro and various municipalities have joined forces to turn the trees into small pieces that are then used for garden decoration, landscaping or organic fertilizer, thus preventing the threes from reaching rivers or causing fires when burned in patios or sidewalks.
In San José, they will be collected in Montes de Oca, San José, Desamparados, Moravia, Goicoechea, Curridabat and Vásquez de Coronado. The Central and La Union de Tres Ríos cantons in Cartago will also offer this possibility. In Heredia, the trees will be collected in Santo Domingo. In all the points this service is completely free.
The municipalities will have the task of promoting a green culture in their cantons because they will be responsible for coordinating the logistics to collect trees in their different neighborhoods,"
said the company, which puts the machinery to make the campaign possible.
This initiative has been in the country for seven years. In the last three years it has been possible to collect about five thousand trees.