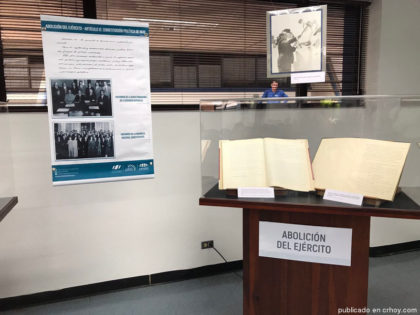 The decision of José Figueres Ferrer to abolish the army in 1948, together with the creation of the Founding Board of the Second Republic, is not only important for Costa Rica, but also for all of humanity as of Wednesday.
The documents that were issued at that time are now part of the international UNESCO Memory of the World record, which for the first time receives historical archives from this country.
But in addition to the abolition of the Army, documents related to the Central American Court of Justice, which had its headquarters in Costa Rica for 10 years, were accepted in the registry of mankind.
Decree 249 of the Founding Board of the Second Republic which stipulates the donation and transfer of the Bella Vista barracks to become a National Museum. In the recital of that document it is mentioned that the army has been abolished as a permanent institution.
The inclusion of the documents postulated by the National Archive in the Unesco International Memory of the World Register is of the utmost importance because it is a recognition of the documentary heritage that the institution holds, its authenticity, significance, rarity and relevance to the peoples of the world,"
said Virginia Chacón Arias, director of the National Archive.