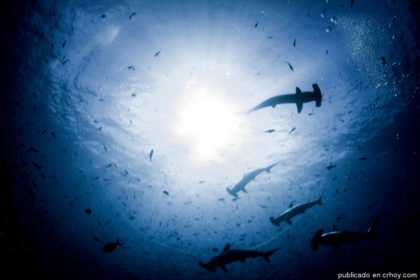 The scientific expedition that traveled through the marine corridor between Isla del Coco and the Galápagos Island left surprising images that will surely take your breath away.
From April 2nd to 13th, entities from Costa Rica and Ecuador, together with organizations such as Fundación Pacífico or Asociación Costa Rica por Siempre, came together to study marine migratory species between the two islands, separated by a marine corridor of 120 thousand square kilometers.
As a result of these efforts, both countries signed a cooperation agreement on Friday to promote actions to protect the seas in one of the most diverse marine areas on the planet.
What was done in the expedition? According to the report of the scientific authorities, underwater video systems with bait were installed in eight different seamounts, which have depths between 160 meters and 900 meters along the route to obtain information, quantify the distribution, abundance and diversity of species.
Also, the effect of factors such as temperature, depth and distance of seamounts on the distribution and abundance of marine species was analyzed.
In addition, the cameras recorded 438.73 hours of video between Galapagos and Coco Island and species such as bottlenose dolphin, sailfish, pilot fish, striped marlin, whales, green turtle, Galapagos shark, hammerhead shark, and other sharks were identified.
The agreements between the conservation authorities of Costa Rica and Ecuador have the following objective:
-Research to produce knowledge about the marine and terrestrial biodiversity of the Marine Protected Areas.
-Coastal marine monitoring.
-Management and eradication of exotic species.
-Planning and evaluation of Protected Wild Areas.
-Addressing climate change.
-Prevention, control and protection.
-Capacity building.
-Getting resources for the execution of projects.
-Creating digital information platforms.
-Restoration of ecosystems.
-Exchange of experiences.
-Joint prevention strategies in human security.
-Sustainable tourism.