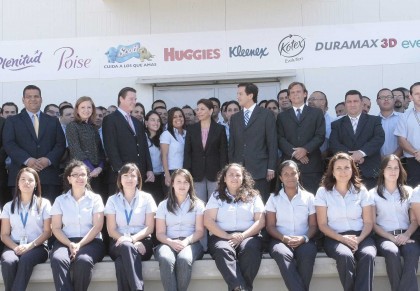 With an investment of U.S. $ 31 million, the company Kimberly-Clark (KC) will strengthen its manufacturing operations and services in Costa Rica. The company will invest U.S. $ 27 million for its new plant in Cartago Coris, plus an additional $ 4 million for its Shared Service Center, located in Heredia and which will support its business network throughout Latin America.
Matias Pinto, Country Manager of KC, said the new investment company will generate 100 new jobs in the country, of which 50 contribute to the operation of the plant in Carthage Coris and other 50 positions will focus on areas finance and technology service center in Heredia.
"This new investment, coupled with the $ 63 million that has been invested in the last 5 years, demonstrates the confidence that the Corporation has in Costa Rica, and the intention to remain leaders in the country and motor region," added the KC representative.
Cartago reinvigorated
The President of the Republic, Laura Chinchilla Miranda, the Minister of Foreign Trade, Anabel Gonzalez, the mayor of Carthage, Rolando Rodríguez and CINDE Director General, Gabriela Llobet, today attended the official opening and tour of modern plant Company in Carthage, which operate with the latest technology for the manufacture of disposable diapers generation.
From the sole of 100 thousand square meters in Costa Rica, Kimberly-Clark will export its products to Central American markets.
During the opening event, the president emphasized the generation of new quality jobs to Costa Rica.
"As a country we have a committed work to improve our competitiveness and key elements of our business climate. We know it is through these efforts that leading companies like Kimberly-Clark continue to grow successfully and generating hundreds of jobs and development opportunities for Costa Rican families. This has been a goal of the highest priority for the Government of Costa Rica and we are pleased to see our work clearly embodied in model projects like this. "
Meanwhile the Minister of Foreign Trade, Anabel González said that the investment made ​​by Kimberly-Clark is part of the good results obtained by Costa Rica in attracting foreign direct investment in 2013
"Costa Rica in 2013 managed to achieve very satisfactory figures in attracting FDI and high-tech manufacturing in the midst of a very challenging global context. We recorded 43 new investment projects, more than $ 583 million and more than 7,000 new direct jobs in these sectors. The new investment made ​​by Kimberly-Clark in Cartago is an important part of these results and in addition to new companies have arrived and raised in Carthage joins revitalizing economic activity in the area and providing quality jobs for its people. "
Looking for talent
KC will be receiving resumes of those interested in applying for new positions available at www.kimberly-clarkcarreras.com
About Kimberly-Clark
142 years of being in business paper, Kimberly-Clark is a leading company in the market development of innovative disposable hygiene products in the categories of personal care, child, family and female.
With products such as Kleenex, Scott, Huggies, Evenflo, Pull-Ups, Kotex, Poise and Wholeness, Kimberly-Clark offers alternatives that improve health, hygiene and well-being of people in over 175 countries.
In Costa Rica, the company has approximately 1,300 employees, working in two floors: Coris of Cartago and San Antonio de Belén, Heredia. They hygiene and personal care brands are manufactured: Scott, Kotex, Poise, Huggies and Kimberly-Clark Professional professionals, the company has repeatedly been named among the top ranking of the Best Companies to Work For and has substantial Corporate Social Responsibility projects, as acclimated, which in nearly five years has shown indicators of environmental achievement and social highlights.
In Costa Rica, Kimberly-Clark was established since 1964, following the merger with Scott Paper, and Kimberly-Clark Worldwide is a major player in the industry of disposable hygiene products and personal care, with operations in 36 countries.