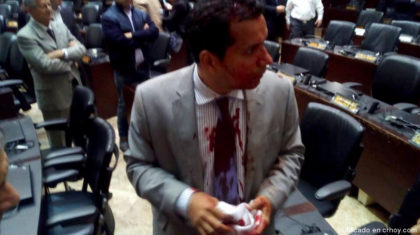 Dozens of supporters of the Venezuelan government remained outside opposition parliament on Wednesday after a violent incursion in which five opposition MPs were injured.
The presence of the demonstrators prevented the departure of the opposition legislators and journalists, five hours after a hundred people burst into the gardens of the Parliament in downtown Caracas, where a solemn session was held in celebration of their Independence Day.
Rumble bombs were detonated all afternoon in front of the legislative palace, according to an AFP reporter inside the building.
The two entrances to the compound were filled with slogans against the opposition:
Assassins! Terrorists! They will not leave, they will have to eat the carpets!"
In the place also there is a large presence of military of the National Guard, who asked the journalists to avoid going to the doors of the Assembly.
We are being kidnapped at the moment,"
said legislator Williams Dávila, a member of Parliament's foreign policy commission.
The lawmakers are in communication with several foreign ministers and congressmen from the region, as well as with the Secretary General of the Organization of American States (OAS), Luis Almagro, to inform about the situation.
Any deaths, any physical aggression is the responsibility of the president (Nicolás Maduro), his ministers, those in charge of public order,"
said Dávila.
The Assemblyman questioned the attitude of the National Guard, which he said did nothing to avoid the morning raid, in which legislators were brutally attacked with sticks and metal tubes.