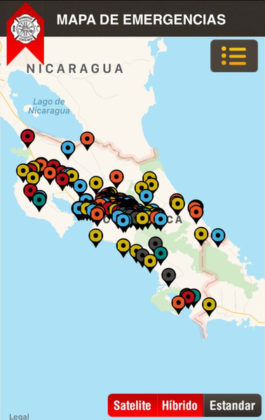 A map shows in real time where most of the incidents due to the strong winds are affecting the country. According to the Fire Department, most incidents respond to emergencies caused by short circuits and falling trees.
Emergencies associated with strong winds exceed 260 dispatches, mainly in San José, Alajuela, Cartago, Heredia and Puntarenas.
Also, the National Company of Power and Light (CNFL), reported that there are about 20 thousand affected services and about 30 technicians are working for the reconnection.
The affected sectors are Santa Ana Belén Radial, Pozos de Santa Ana, Laureles de Escazú, Rancho Redondo, Cruce de Las Nubes, San Ramón, Paracito, Chacón Paut, El Bosque, La Montaña, San Pedro de Coronado, Tarbaca, San Blas and San Jerónimo de Moravia, Ciudad Colón and San José de la Montaña.
In addition, there are many reports of de-roofed houses: 15 in San José, three in Alajuela, eight in Puntarenas, two in Guanacaste, and seven in Limón.