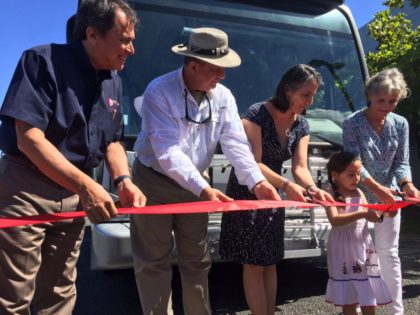 Its name is N'YU'TI. This is the new bus developed by Ad Astra Rocket, the company of Costa Rican scientist Frankling Chang, which was inaugurated on Monday in Liberia, Guanacaste.
Instead of using petroleum derivatives to move, such as gasoline, it works with hydrogen. Hence its name "N'YU'TI" which means star, which are composed mostly of hydrogen.
Hydrogen (H) is one of the components of water (H2O). By means of electrical energy, the hydrogen molecules are separated from the oxygen molecules. Then the hydrogen is recharged in the bus and internally it is reconnected with oxygen. When the elements come together again, heat and electrical energy are generated, allowing the movement of the bus.
It can reach speeds of up to 60 miles per hour. More than 100 people can be transferred in a single trip: 35 seated and 70 standing.
For now this project is experimental and Ad Astra Rocket will allow people to approach the initiative. It is expected to provide public service in Liberia, Guanacaste, where Ad Astra Rocket is located.
One of the challenges is to increase the recharging infrastructure of these buses so that they have the opportunity to "fill up the tank" at other points.
Costa Rica is the first country in Central America with this technology and the third in the region, along with Brazil and Argentina.