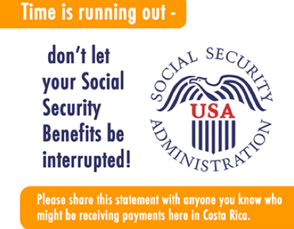 Last year the Federal Benefits Unit of the U.S. Embassy in Costa Rica failed to receive for lack of a better term, "proof of life" from 25 Social Security recipients. Payments were being made to their bank accounts in Costa Rica, but they were not around to answer letters confirming their continued existence.
Although at issue are U.S. benefits, the problem is actually a reflection of how the Costa Rican legal system fails to deal with fraud. For example, in June Diario Extra reported that an estimated 5,000 deceased Costa Rican pensioners were still receiving benefits payments. The situation is that survivors keep the banks accounts active and take the benefits of their deceased relatives.
When United States citizens with few family ties die in Costa Rica those closest to them do not overlook the fact money is coming into the bank account every month. In the United States this kind of behavior is eventually detected by Social Security because they get involved in the burial. Stealing benefits is a felony punishable in federal court, and the cases are easy to prove because banks will provide information to Social Security.
In Costa Rica, none of these conditions are present. There is no embalming and the dead are usually buried within 24 hours. Death records of foreigners are public information, but they do not identify nationality and are not always correct with names and details. More importantly, neither the embassy or Social Security has the authority to get information from the local banks in Costa Rica where the funds are deposited. Also, if the people taking the money are not U.S. citizens there is very little chance of a criminal conviction.
Even the non-citizen spouses of deceased Social Security recipients have very little reason to cooperate. According to the law, they are not entitled to benefits unless they legally reside in the United States.
This year the embassy has sent verification letters to beneficiaries whose Social Security numbers end in 50-99, and those who receive benefits on behalf of a minor or disabled person. A total of 300 people have failed to respond and are at risk of having their deposits suspended.
Beneficiaries with questions can contact the Federal Benefits Section at the U.S. Embassy in Costa Rica (phone number 2519-2000) or follow the instructions for email contacts on their webpage.