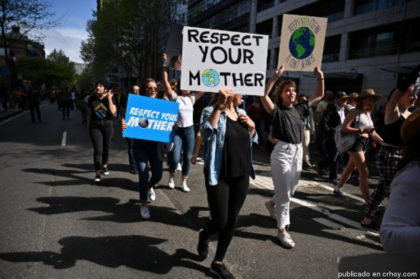 Tens of thousands of people equipped with bags, nets and containers of all kinds participated this Saturday in a global day of cleaning, on beaches, rivers, lakes and streets, collecting garbage and asking at the same time for a change of mentality.
A day after millions of people demonstrated against climate change, volunteers struggled, under the sun or rain, from the beaches of Manila to the shores of the Mediterranean.
The mass cleaning operation was organized by the Estonian Let's Do It Foundation, which seeks to
connect and empower people and organizations around the world to free our planet of debris,"
according to its website.
According to the data, last year 18 million people from 157 countries participated. This year they expect to count on 160 participating countries.
The operation started in Asia. The inhabitants of Fiji set to work very early, removing garbage from their paradisiacal beaches, removing tires and abandoned engines from the coast, west of the capital, Suva.
On the Australian beach in Bondi, the activists were moving along the sand, picking up pieces of plastic and cigarette butts.
In the Philippines, about 10,000 people tried to clean up the heavily contaminated Manila Bay, carrying bags that were filled with garbage.
Plastic pollution is a major problem in Southeast Asia, especially in the Philippines, China, Vietnam and Indonesia.
It's up to us to help the environment, especially here in Manila, where there is a lot of garbage,"
said Mae Angela Areglado, a 20-year-old student, while collaborating on the initiative in the capital's Baseco neighborhood.
Plastic is affecting marine life because (animals) believe it is food,"
added the young woman.
In France, volunteers went to the beaches under a sunny day. The Ministry of Environment reported that only in the business district of Paris, La Defense, 12,528 cigarette butts were collected from the ground.
According to a United Nations report, in 2018 79% of the 9 tons of plastic manufactured in the world was discarded, and only 9% was recycled.