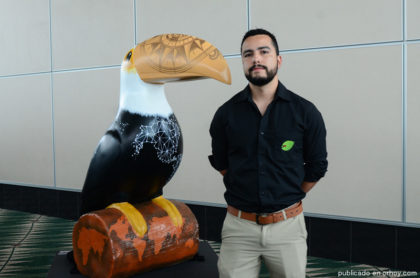 Tourists visiting Costa Rica will be welcomed by eight toucans for the year. From this Tuesday, Juan Santamaría International Airport is home to the Toucan Fest, an exhibition of toucan sculptures. The works will be exhibited throughout the international terminal.
The works are approximately two meters high and were made by emerging and established artists. The goal is to show tourists the many and beautiful reasons to return to the country, focused on the well-known biodiversity. This time, the artists focused on the beautiful birds, which dazzle in different parts of the country.
We are promoters of the country's image and we discover that we can use the waiting periods to generate immersive experiences for those who visit us. The best way to do it is through the exhibition of national art and the manifestations of our culture, biodiversity, and all those things that make tourists return to Costa Rica,"
said Lucía Gutiérrez, Commercial Manager of Aeris Costa Rica, airport concessionaire.
Each work has a name representative of the inspiration of the artist who made it. Even Rosales, painter and creator of El Viajero, said he always wanted to exhibit his work in the country, after doing so aborad. For his work he wanted to print a more modern concept, dedicated to the thousands of travelers passing through Tiquicia.
Hanna Buentemeyer is a veteran artist who has focused her career on social issues. In her work, called Costa Rica, the country of nature, she moves away from her usual more abstract work.
It is estimated that the toucans will be seen by about 4.8 million passengers that go through Costa Rica's main airport.