More than two weeks following the departure under mysterious circumstances of General Manager Ryan Piercy the Casa Canada Group and it's division the Association of Residents of Costa Rica, ARCR Administration S.A. (or ARCR) have yet to issue a press release or public statement regarding its current management or future. The whereabouts of Piercy are unknown and newspapers have published conflicting details.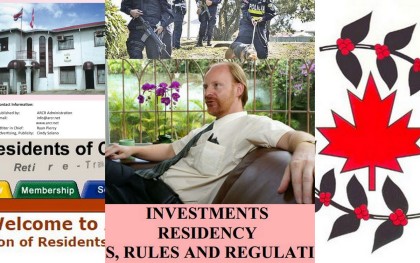 We do know that his car was found abandoned in a coffee plantation, with its doors open on Tuesday, January 20th. The Tico Times reported the disappearance of Piercy. Judicial Investigation Police (OIJ) Director, Francisco Segura said on television that police were investigating both the possibility that Piercy was abducted or instead choose to disappear himself.
Spanish-language Diario Extra reported on January 22nd that Ryan Craig Piercy Bate had been kidnapped, and his abductors had demanded that his wife Pay a Half Million Dollar Ransom. The following week La Extra also published an odd article, which stated that Piercy's son had also gone missing. Both articles in La Extra are filled with Minor Factual Errors about Easily Verifiable Facts.
Journalists investigating the story have said that neither the family or the Judicial Police are talking to the press. Diario Extra has a reputation for missing the finer details in the rush to publish a story. However, they also have a history of successfully obtaining accurate information, unofficially from police investigators.
Just last year, it was revealed that Judicial Investigators tapped the phone of a journalist without a search warrant. The act was an apparent attempt to plug leaks in the police organization about kidnapping cases.
Employees at ARCR Administration have put up a wall of silence. Comments and questions about Ryan Piercy are being routinely deleted from their Internet Forum. It's understandable that details about the investigation should remain confidential while the investigation continues. Police leaks about details of a kidnapping could have already put the life of Ryan Piercy in jeopardy.
However, the lack of public comment at Casa Canada and ARCR about their business is ominous. This is particularity the case when dealing with a for-profit corporation, which has fiduciary duties in the investment and insurance sphere. Good Questions would include:
Will the board of directors for ARCR Administration S.A. appoint a new company president, due to the absence of the the current president?
Who is accountable as a manager for the day to day operations of the company?
How will publication business of ARCR be affected, following the departure of the Editor In Chief for El Residente?
Does the company plan to order an outside audit, following the change in management?
Information on the Casa Canada website says that it has held investments for third parties in the past (Financorp 2004). Are there current investments at risk?
Does Casa Canada have any activities that would require it be registered and subject to government regulation by SUGEF, under the Organic Banking Law of  the Costa Rica Central Bank.
Money laundering is a pervasive problem in Costa Rica. What due diligence practices does Casa Canada exercise to prevent money laundering in its investment, property and mortgage administration businesses?
ARCR Admistration S.A. For Profit Corporation
Unfortunately, many expats think of ARCR as a non-profit or charitable entity. Indeed, Ryan Piercy has done much to help and support the expat community in Costa Rica. However, ARCR is in fact a business, and its operations and income are the exclusive property of its shareholders. Whoever is defacto in charge of the company has so far, failed to go on record publicly about his duties and the commitments of the company to its customers.