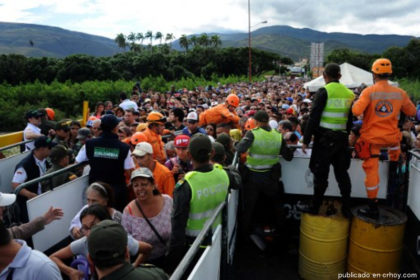 Thousands of Venezuelans crossed to Colombia in search of food (butter, rice, oil, milk, among others), toiletries, medicines and other products that are not found in Venezuelan territory.
The massive mobilization is a consequence of the border's reopening: Venezuelan government had closed it 11 months ago.
People went to Cúcuta, a bordering, Colombian city, through the international Simón Bolívar and Paula Santander bridges, which connect San Antonio and Ureña (Venezuela) with Norte de Santander (Colombia).
During the first four hours of the opening, more than 35,000 Venezuelan citizens entered Colombia, according to Colombia's Immigration Control Office.
Colombia's Director of Immigration, Christian Krüger, explained that on Saturday, 44,000 Venezuelan citizens crossed the borders in a regular way and on Sunday it was expected that the number would exceed 75,000 citizens.
According to AFP, At 07:00 o'clock in the morning, people crossed the border and they weren't only from Táchira bordering state. There were citizens from other Venezuelan states such as Falcón, Lara, Carabobo and even from Caracas.