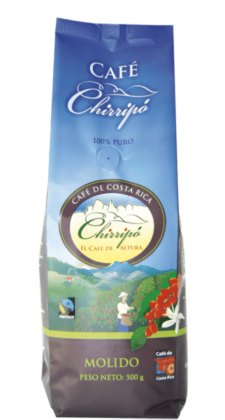 Costa Rica stands out for producing some of the best coffees in the world and one of those comes from Pérez Zeledón. The climate of the country and its extremely fertile soils favor the production for national consumption and export.
The production of Operaciones del Valle -under the slogan of the cooperative CoopeAgri RL.- in Hoyón de Pérez Zeledón, is an important source of employment in the area. The company has more than 70 employees who produce some of the most sought after coffee brands abroad.
One of these varieties is Café Chirripó, harvested at approximately 1200 msnm. This is one of the main products of this plant and its 100% Costa Rican, arabic quality make it worthy of its worldwide fame.
The Chirripó Coffee, being a tall coffee, has a sweet taste and a very characteristic chocolate aroma. We have already exported it as a finished product and as raw material to the United States, Canada, Japan and practically all Europe. It is the true gourmet coffee of Costa Rica,"
stated Carlos Olivares, Operations Manager of the Valley of CoopeAgri RL.
Although the national market consumes all kinds of coffee and various categories, the main objective of the cooperative is to offer Costa Ricans high quality options and add value to the product through its brands Café Chirripó, Café del Valle and Café Los Gemelos.
As part of its efforts to fulfill its objective, last January, Operaciones del Valle received the international certification FSSC 22000, issued by the Foundation for Certification of Food Safety, which guarantees the safety and quality of the production process in the plant.
This guarantees that the food will not cause any harm to the consumer and that they are produced under high quality standards that rigorously guard all cleaning, order and quality measures, with world standards and the latest technology.
This certification also represents a competitive advantage in the national market as CoopeAgri RL is the only cooperative in Central America that has it, and also facilitates access to international markets.