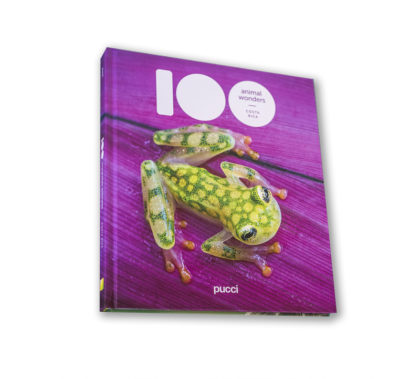 On December 2nd, Juan José, Giancarlo and Sergio Pucci will present two books: Chirripó, guardian of the eternal waters, and 100 animal wonders.
Chirripó, guardian of the eternal waters is a chronicle that portrays corners that hide in that imposing hill, a place that is symbolic for the Pucci because it was the site that inspired the first book by Juan José, published 17 years ago, and because it has been the destination of numerous family expeditions.
This book, which takes its name from one of the trails of that national park, is a chronicle of a trip that Sergio and I made this year, along with two friends who signed up, Óscar Benavides and Arturo Pardo. We climbed the Uran route that passes through the Indians and down the route from the valley of Los Leones to San Jerónimo; these journeys were new for us. We were very lucky with the weather, starry nights and spectacular sunrises and sunsets. The book also includes unpublished aerial photos,"
said Giancarlo.
This issue also has a chapter dedicated to the inhabitants of the communities at the foot of the mountain: San Gerardo de Rivas, Herradura, Canan and San Jerónimo. These towns have many stories of their bond with nature and are a case of success of tourism ventures that go hand in hand with the National System of Conservation Areas (SINAC), because they have managed to protect resources and turn tourism into a source of sustainable work.
A percentage of the profits obtained from the sale of the book will go to SINAC to carry out improvement projects in that national park.
The other book, 100 Animal Wonders shows different destinations and the mammals, birds, reptiles, insects and fish that fill them with life.
This is a compilation of species that are in danger of extinction, that are threatened or that, for now, are common. In all our books, wildlife has been the main character, but it has never been under the spotlight. We feel great affinity for the animals we have in Costa Rica; we know that we live in a privileged place in terms of biodiversity and, therefore, we wanted not only to show it, but to give a message of conservation, an invitation to look at them in the eyes,"
said Giancarlo.
Juan José Pucci added that the purpose is that this publication helps to create awareness for people to value their impacts on wildlife, because some of those impacts are distant from where the animals reside, but directly affect them.