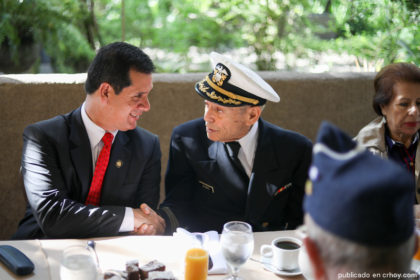 On Sunday, December 1st, the government celebrated 71 years since the abolition of the army as a permanent institution with a series of cultural activities typical of this day. 71 years are easy, but this event marked a before and after in the history of the country and changed the course of Costa Rica completely. The saying goes well: "Blessed is the Costa Rican mother, who knows that her son will never be a soldier."
The activity, held in the Plaza de la Democracia, was attended by the first Lady Claudia Dobles, Vice President Epsy Campbell, on behalf of President Carlos Alvarado, who is out of the country and several former combatants of the Civil War.
On December 1st, 1948, the then president of the Founding Board of the Second Republic, José Figueres Ferrer, at the Bella Vista Barracks, terminated the functions of the Costa Rican army. How? Figueres called a solemn, symbolic and emotional act that impacts to this day.
As part of that symbolic act, Figueres gives the headquarters keys to a higher educational institution, the recently inaugurated University of Costa Rica, so the facilities would serve as a center for anthropology studies. Today this building is the National Museum.
The following year, in 1949, the National Constituent Assembly decided to give the subject a Constitutional rank, demonstrating the will of the people to live without an army and deposit the security of the country in a preventive police, which today is the Public Force.