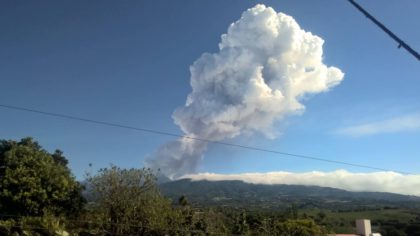 On April 12th, Poás Volcano awoke from a 64-year-long dream. The last eruption that had occurred dates from 1953 and lasted until 1956. Although Poás is one of the five most active volcanoes in the country, its activity was light, with small gas emissions and an acidic lagoon of great value for tourism.
The Poás massif is composed of three craters and the main one is 300 meters deep and has a diameter of approximately 1.32 kilometers. This makes it the largest geyser crater in the world and one of the largest craters in the world.
Although in 2014 it showed some groundwater discharges, they did not surpass the 250 meters. This week, however, the colossus emitted ash and rocks at up to 3,000 meters, thus mobilizing emergency bodies and encouraging the closure of the Park and an alert status in at least seven cantons.
Poás, with a height of more than 2,700 meters above sea level, has presented groundwater, which have produced ash fall, lahars and fall of pyroplastic material. Lahars are sediment and water flows that are mobilized from the slopes of volcanoes.